SharperSkills® Business Intelligence Training
Sharpen your Business Intelligence skills and deliver better results with SharperSkills® Microsoft BI Training
---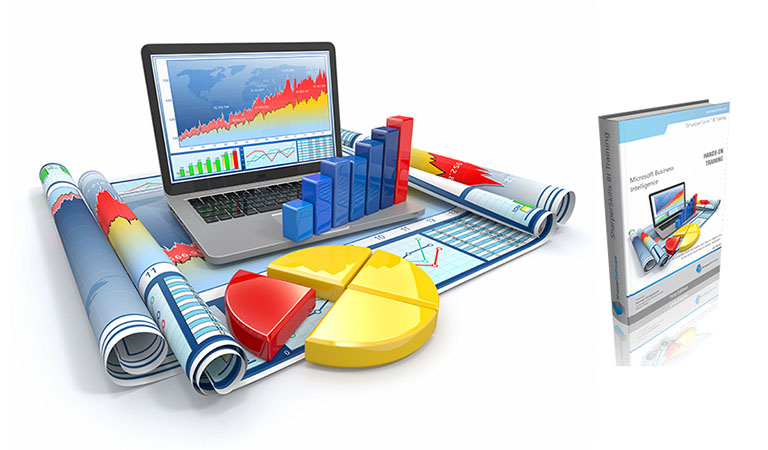 Build Business Intelligence solutions based on the Microsoft Platform and drive informed decision making in your organization. This SharperSkills® offering trains your team on how to address your reporting, performance management and decision making needs with a customized training that suits your industry.
The World is suffering one of its worst economic downturns in recent years. Several research organizations found that, had businesses been able to pinpoint the weak areas of their business, they would've had a good chance of making the necessary amendments in time to help reduce risks of loss. Yet, even those companies who already had performance management skills and resources suffered from the same failures.
Our data sources were getting increasingly larger, while knowledge of our own business was getting smaller by-the-minute. We needed to turn data into knowledge as quickly and efficiently as possible. We began our thousand-mile journey by attending a hands-on Training by Sharper Software. We learned a lot in just 5 days.
Today's Business Challenges
Nowadays, it is imperative for the success of any business to be able to:
Clearly define its goals, strategies and objectives.
Effectively articulate those goals and objectives to every stakeholder in the organization.
Monitor the performance of the organization against those goals and objectives.
Plan action(s) necessary to turn the weak areas into strong areas.
Execute these plans effectively.
Plan the necessary resources for the upcoming period(s).
SharperSkills® BI Training Offering
This 5-day, Instructor-led training offering focuses on your industry's major business challenges and teaches attendees how to use technology to address these challenges. You'll learn how to set goals and objectives, effectively articulate these goals to the rest of the organization, measure the performance of the organization against these goals and plan ways to turn the weak points into strong points.
Item
Description
Duration
5 Days
Delivery Mechanism
Instructor-led in a classroom with a PC for every attendee.
Audience

Data Scientists
IT Professionals
Report Developers
Database Developers

Prerequisites

An understanding of the fundamentals of business intelligence
Some knowledge about databases, data sources, etc.

Technical Level
Intermediate to Advanced
What will the attendees learn?
Real-World example:

We will pick a fictitious company that is in the same industry as your organization. This fictitious company will be used as a Case Study for the complete course.
The Case Study company will be studied to understand its business challenges, goals, objectives and strategies.

Methodology and approach:

Attendees will learn how to build a Strategy Map to articulate the company's objectives to the rest of the organization.
Attendees will learn how to find data sources that can serve the business needs identified by the Strategy Map.
Attendees will understand the multiple sources of data available to the Case Study company. Then attendees will analyze this data using Profiler tools to understand the intricacies of the available data. This data will be mapped to the specific item(s) in the Strategy Map.

Execution:

Data will be moved into a data warehouse using Extract, Transform and Load operations.
Multi-dimensional analysis cubes will be developed by the attendees to allow for in-depth analysis.
Attendees will then develop Reports, Dashboards, Scorecards, Visualizations, etc. and publish them to the rest of the organization.
Technology
Windows Server
SQL Server (including Database Engine, Integration Services, Analysis Services, Reporting Services, Data Quality Services, Master Data Services, etc.)
Office Excel, Visio, Word and PowerPoint.
SharePoint Server
Training Material
Every trainee will get a Welcome Kit that includes:
USB Flash Disk including the necessary software and virtual machines used during the training.
Full-Color printed training manual.
An anonymous Feedback Form to collect personal feedback about the course and the performance of the instructor.
An attractive Certificate of Attendance.
Gallery
---
Improved

Skills

Your team's skills will improve, making them ready to take on new challenges and see them through.
More
Practice

Less Theory

Practice using the technology rather than going through boring theory. We use no slides, but rather a Virtual Machine.
Find
Hidden Gems
Conventional training rarely covers all the features. Find hidden gems in the technology, helping you solve problems.
Problem

Solving

Use knowledge you gained from this training to solve real-life business problems with technology.
Reusable
Material
Provided Training Material can be used at home or at the office, making it a great reference when you need it.
Check
Your Knowledge
At the end of each module, attendees have to answer "Check Your Knowledge" questions to solidify learnings.