Data Quality Services & Technologies
Correct, enrich, standardize and deduplicate your organization's data
---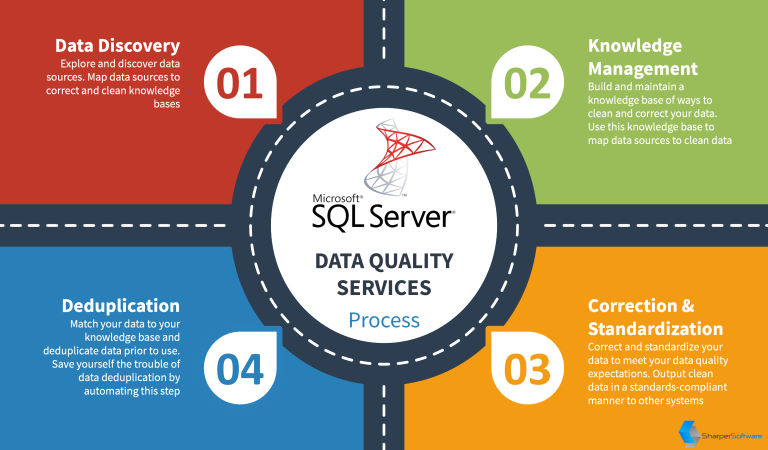 Achieving 100% data accuracy is not possible for any organization. The higher the accuracy of your data, the more insightful decisions can be made and vise versa. However, if your data is already not accurate enough, is it the end of the World for you?
Maybe for someone else. For you, Sharper Software offers Data Quality services and technologies that would increase the accuracy of your data to a very acceptable level. We offer services, custom-code where needed as well as hands-on training on these solutions.
Sharper Software offerings in a nutshell:
Custom Software. Where required, Sharper Software can develop software applications to serve your needs
Professional Services. With a Portfolio of professional services offerings, Sharper Software delivers added value and finds solutions to your business challenges
SharperSkills Training. Hands-on, no slides, practical technology training on the Microsoft Technologies. Learn from our experts with practical examples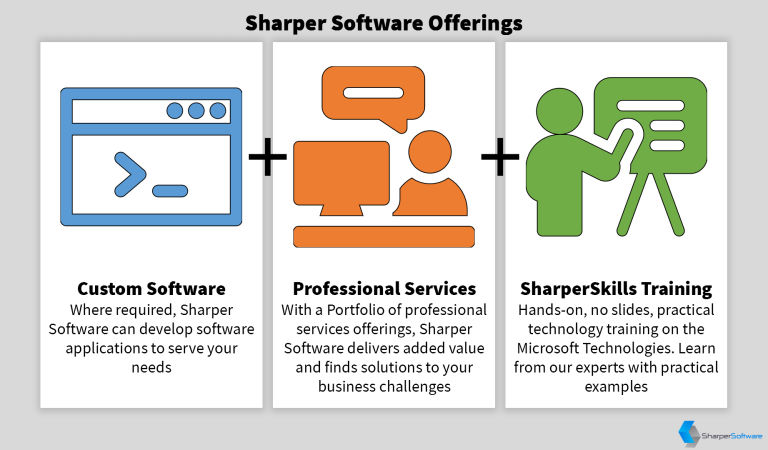 In terms of Data Quality, here's what Sharper Software has to offer:
Data Quality Process
Using a highly-flexible data quality process, Sharper Software can provide you with the following data quality capabilities:
Data Discovery. Explore and discover data sources. Map data sources to correct and clean knowledge bases.
Knowledge Management. Build and maintain a Knowledge Base of ways to correct and clean your data. Use it to correct errors.
Correction & Standardization. Correct and Standardize your data and meet/exceed your data needs.
Deduplication. Handle duplicates properly by matching with Knowledge Base.
The end result is data that is clean, accurate and conforms to your organization's or international standards.
Building a Knowledge Base
Here's what Sharper Software offers in terms of Building a Data Quality Knowledge Base:
Knowledge Discovery. Use sample data to train the computer-assisted tools and build a knowledge base from such sample data.
Domain Management. Verify and modify the knowledge base domains, which are associated with data fields by setting field-wide properties, creating rules, changing specific values, using reference data services, or setting up term-based or cross-field relationships.
Reference Data Services. Enables you to validate your data against data maintained and guaranteed by a reference data provider. Data may be replaced and/or augmented with the reference data.
Matching Policy A policy that defines how to identify potential duplicates and non-matches, built into the knowledge base in a computer-assisted and interactive process.
Training: SharperSkills SQL Server hands-on training from Sharper Software helps transfer our knowledge, experience and technical abilities to your team.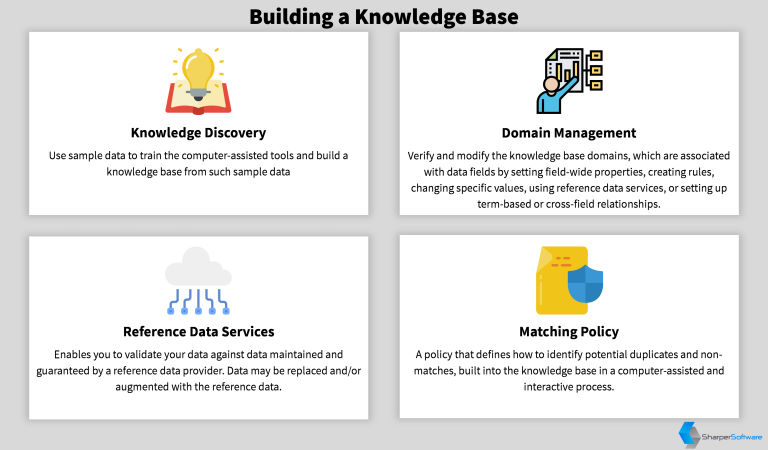 Follow our footsteps and learn how to improve the quality of your data.
Data Quality Projects
Here's what Sharper Software offers in terms of Data Quality Projects:
Cleansing Activity. Enables cleansing your source data based on a knowledge base. Most of the work will be done for you using the Computer-assisted data cleansing option. However, it is possible to perform interactive cleansing by approval or rejection or modification of data.
Matching Activity. Enables matching data with the knowledge base based on one or more matching policies that prevent data duplication by identifying exact and approximate matches. This would improve the accuracy of data and deduplicate it.
Data Profiling and Notifications. See real-time statistics and information about the data being processed. This helps in the assessment of the effectiveness of the cleansing and matching processes. Allows to potentially determine the extent to which data cleansing or matching helped improve the data quality.
Training: SharperSkills SQL Server hands-on training from Sharper Software helps transfer our knowledge, experience and technical abilities to your team.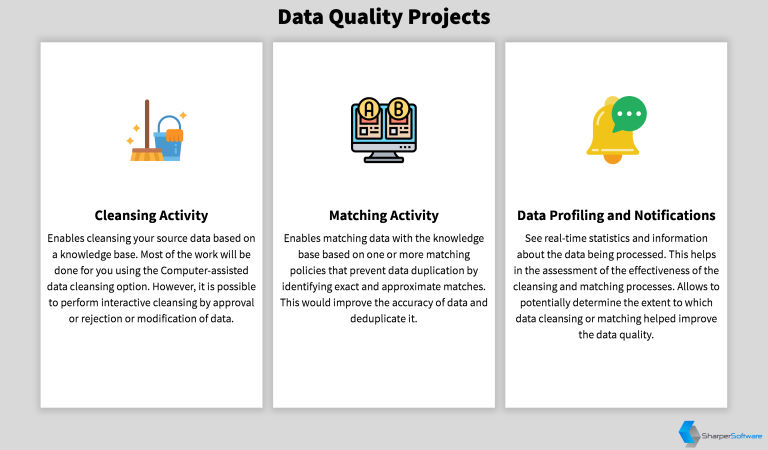 Gallery
---
Performance and
scale
Different Service Tiers to meet your levels of performance and scalability. Scale as your business grows.
Maximize

Utilization

Elastic pools allow you to allocate performance resources to a pool rather than to an individual database.
Monitoring

and alerting

Use tools and the performance ratings to quickly assess the impact of scaling up or down based on your current needs.
Phenomenal
Reliability
Industry leading 99.99% availability, powered by a global network of Microsoft-managed datacenters.
Data
Security
Advanced features to help secure your data, limit access, protect data privacy, and help you monitor activity.
Expert

Advice

Our team of highly-skilled professionals will guide your team through every step of the process.