Intelligent Bot Solutions
Provide conversational experiences to your applications using Intelligent Bots
---
Although a cost center for all organizations, there can hardly be a successful business without a Call Center. According to Microsoft's released report entitled State of Global Customer Service 61% of consumers say that they have stopped transacting with a business after a poor service experience. Here are some of the challenges facing Call Centers:
Finding, attracting, training and retaining support and call center staff is very costly.
Operating a call center is even more costly, as there is no way one could predict the pattern or nature of the received support calls.
Businesses around the World realize, that it may not be possible to run a call center that is available 24 hours a day, 7 days a week, so support calls are usually limited to working hours in those businesses.
Furthermore, there is the challenge of spoken language. Which languages should the call center accept?
Most of the calls to a call center can easily be answered by visiting the organization's website.
People still prefer to speak to another person in case they face an issue with your product or services.
Sharper Software can help your organization meet or exceed these challenges by implementing an intelligent bot agent. Here are the benefits of this solution:
Reduce the calls that can be answered by visiting the website by at least 30%
Make the service available 24 hours a day, 7 days a week
Support multiple languages and hence, cover more geographies
Sharper Software offerings in a nutshell:
Custom Software. Where required, Sharper Software can develop software applications to serve your needs
Professional Services. With a Portfolio of professional services offerings, Sharper Software delivers added value and finds solutions to your business challenges
SharperSkills Training. Hands-on, no slides, practical technology training on the Microsoft Technologies. Learn from our experts with practical examples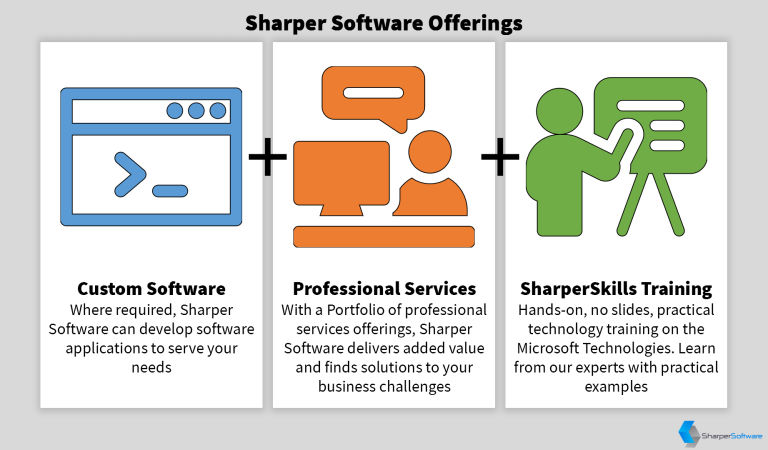 In terms of Intelligent Bot Solutions, here's what Sharper Software has to offer:
Our customers hardly realized they were chatting to a machine, as we've made the bot seem and act like a human support agent.
Microsoft Azure Intelligent Bot Solutions
Here's what Microsoft Azure Intelligent Bot Solutions has to offer:
Phase
Deliverables
Cognitive Services Integration

We integrate with Cognitive Services to enrich the capabilities of the bot:

Language Understanding, to allow the bot to understand what the user needs, even if s/he does not use the expected words of phrases.
Text Analytics, to analyze the sentiment and extract keywords from the typed text.
QnA Maker, to quickly train the bot on frequently asked questions.
Translator, to translate and support multiple languages.
and much more...

Intelligent Bot Development
We use industry-standard tools to train, test and publish the bot to Azure Bot Services.
Bot Deployment

We publish the bot to multiple channels in order to allow the best possible experience to your users. Here's a list of supported channels:

Cortana
Direct Line
Email
Facebook Messenger
GroupMe
Kaizala
Kik
Microsoft Teams
Skype and Skype for Business
Slack
Telegram
Twilio
WebChat
Webex
WeChat

Personalization
We help you brand your bot agent to meet your marketing and service-level expectations. Using Custom Voice, we may also introduce your branded Virtual Voice Assistant.
Why Azure Intelligent Bot Solutions?
Sharper Software offers Azure Intelligent Bot Solutions as the platform of choice for the following reasons:
Real-Time Predictions: Azure Intelligent Bot Solutions can make predictions very efficiently and near real-time.
Scalability: Using Azure Intelligent Bot Solutions, we make sure that the solution scales according to your needs. This makes the solution cost-effective and lowers operational risks.
No set limits: Azure Intelligent Bot Solutions does not impose any limits on the data that needs to be processed. This makes it possible to analyze patterns in more data and helps grow the platform as the business needs grow.
Many Intelligent Bot Solutions Algorithms: Azure Intelligent Bot Solutions provides a plethora of algorithms out-of-the-box. The sky is the limit when it comes to the possibilities this feature brings to your Intelligent Bot Solutions needs.
Security & Privacy It is critical to keep your most important digital assets safe and secure while managing user access permissions and privileges.
Availability: we assist you in making the right choices in terms of availability of your data warehouse.
Gallery
---
Performance and
scale
Different Service Tiers to meet your levels of performance and scalability. Scale as your business grows.
Maximize

Utilization

Elastic pools allow you to allocate performance resources to a pool rather than to an individual database.
Monitoring

and alerting

Use tools and the performance ratings to quickly assess the impact of scaling up or down based on your current needs.
Phenomenal
Reliability
Industry leading 99.99% availability, powered by a global network of Microsoft-managed datacenters.
Data
Security
Advanced features to help secure your data, limit access, protect data privacy, and help you monitor activity.
Expert

Advice

Our team of highly-skilled professionals will guide your team through every step of the process.