SharperRetail® Jewelry Edition
End-to-end Retail Jewelry Management using SharperRetail® - Jewelry Edition
---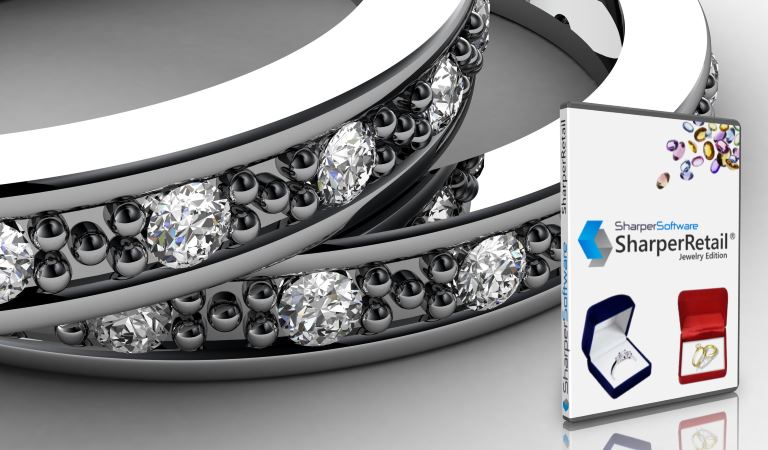 Managing a retail business can be extremely demanding. From managing a plethora of items, to managing sales operations, to administrative tasks, every single step in your business will require detailed attention. SharperRetail® reduces the overhead of running your retail business by automating and controlling your business processes.
Using an intuitive user experience, SharperRetail® helps you focus on increasing your sales and reducing your costs.
It was very challenging and time-consuming to perform a physical inventory in our showrooms. It usually took us

eight

hours on average. Now it takes us less than

two

hours to complete the physical inventory in our largest showroom.
Features
SharperRetail® provides a lot of features and functionality. Here's a summary:
Feature
Explanation

Automated Installation & Updates

You can install SharperRetail® by visiting a web page and

clicking on a button

.
SharperRetail® will

install itself and all its prerequisites

for the user.
Application

updates itself automatically

whenever a newer version is available.

No administrative privileges

necessary to perform these operations.

Powerful Search using SharperSearch Technology

SharperSearch® technology makes it possible to search for a customer, an invoice, an item, or anything else using any known part of the information. For instance, you can search a customer by phone, Civil ID number, any part of the name, etc. using a single search box in SharperRetail, or you can search for an invoice by number, customer name, item barcode, etc. This saves your time and effort in finding the information you're looking for.

Highly Automated

Automate most of your mundane tasks and save time and money. There is no need to re-enter any information into any other screen. For instance, Sales and operating expenses are automatically available for bookkeeping. Customer information can be captured automatically by reading the Smart Kuwaiti Civil ID.

Maintain Customer Relations

Keep a close eye on your customers. Maintain accurate information about your customers, their demographics, their accounts, payments, etc. Identify your most profitable customers and treat them in a personalized manner. Reach out to your customers via Social Media. Reflect a high-profile corporate image to your customers with a connected experience.

Sales Operations

Help your sales force focus on selling and relieve them of mundane tasks.
Issue a Sales Invoice with the

minimum number of clicks

and as quickly as possible.
Application

automatically calculates

prices, totals, gold prices, amendments, etc.
Automatically computes inventory and

cost of goods sold

Return

an invoice with minimal clicks and refund the customer.

Reserve

items for a customer to stabilize prices.

Payment Tracking

Accept a

wide range of payment cards

in addition to cash. Major credit cards are accepted.
A customer may choose to

pay partially

using any combination of these payment methods.
Money collected from sales can be

deposited

into a bank account at any point in time, or cash may be withheld at the store for making purchases.
SharperRetail® makes it possible to capture the card details by reading off the payment smart-cards

Manage Inventory

Maintain a healthy level of inventory in your stores.
Reduce the time it takes to perform physical inventory to

minutes

instead of days.

Physical inventory

can be conducted at any point in time, as all operations automatically update the current stock levels and inventory information in every branch or store.

Barcode Generation & Use

Generate, print and scan

barcodes

for use with item and/or asset tracking.
Supports a wide variety of 1D and 2D barcodes, including but not limited to:

Code3Of9 digital and extended, Interleaved2Of5, EAN8, EAN13

etc.
Support for label printers using the

ZPL and EPL

standards.

Finance & Accounting

Maintain your

Chart of Accounts

visually in a hierarchical manner.
Associate an account with an

Asset, Liability, Equity

, etc. simply by categorizing the account.
Automate the process of

posting

transactions generated from sales, purchasing or fixing by assigning the proper Debit and Credit Accounts.
Supports accounts of type

currency

with any available currency in the World, or of type

Gold

which allows posting transactions as Gold.
Automatically generate Trial Balance, Balance Sheet, Cash Flow and many other

financial reports

.

Human Resources

Track

the details of all your employees, their leave balances, their training records, their skills and their payroll.
Connected platform that allows automated

payroll

processing, leave request processing, visa and residence processing, promotions, and much more.

Information Privacy

It is imperative to capture as much detailed information about your customers, employees, inventory, accounting books, etc. It is even more imperative to keep this information secure and allow only privileged users to access this information. SharperRetail® provides managed access to all data by allowing only privileged users access to relevant information. Data transferred within the wire is also encrypted for further privacy and security.

Reports and Analytics

Get answers to the most daunting questions about your business. Who are my most profitable customers? Which items are fast-movers and which ones are slow-movers? Which shipment of goods was sold as of date? Which supplier's items have not been sold? Which salesperson is the best seller?
Gallery
Technology
Capability
Technology
Operating System

Microsoft Windows Server 2102 or later on the server. We recommend Windows Server 2012 R2
Microsoft Windows 10 or later

Data Platform
Microsoft SQL Server 2012 or later. We recommend SQL Server 2016 Enterprise
Middle Tier Application Server + Web Services

Windows Communications Foundation (WCF)
.Net Framework 4.5 or later.

Client Application

Smart Client .Net 4.5 or later
Windows Presentation Foundation (WPF)

Collaboration & Communication Platform

Microsoft SharePoint Server 2013 or later. We recommend SharePoint Server 2016
Microsoft PerformancePoint Services
---
Shorter

Wait Times

Your customers, patients and/or employees will spend less time waiting for you to process their data.
Data
Accuracy
Information is guaranteed to be correct and authoritative, as it's provided by the Public Authority for Civil Information.
Data
Consistency
Data is consistent across your systems. If a centralized Master Data is used, it is possible to feed it via this solution.
Reduced

Data Entry Errors

Data entry clerks will have little to no editing to do to complete the data entry.
Extensible
Reports
Create your own reports and deliver them to concerned personnel.
You are a
Champion
You helped reduce operational costs and improve service levels while saving money. You are a champion.