Use Artificial Intelligence in real-World scenarios
---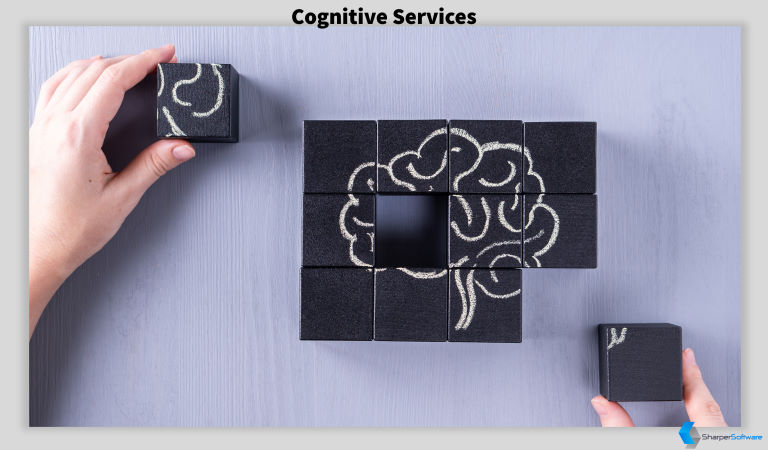 Building artificial intelligence solutions from the ground up is not a trivial task. It involves a lot of research, development, testing, modeling, and much more. Yet, in those scenarios where necessary, it is possible to revert to this approach to build an artificial intelligence-based solution.
To get a head start and utilize artificial intelligence solutions that have already been developed, tested and proven, you can rely on Sharper Software to provide solutions based on Microsoft Azure Cognitive Services. This comprehensive list of artificial intelligence technologies can be used in any possible combination to provide state-of-the-art solutions to critical business problems.
Sharper Software offerings in a nutshell:
Custom Software. Where required, Sharper Software can develop software applications to serve your needs
Professional Services. With a Portfolio of professional services offerings, Sharper Software delivers added value and finds solutions to your business challenges
SharperSkills Training. Hands-on, no slides, practical technology training on the Microsoft Technologies. Learn from our experts with practical examples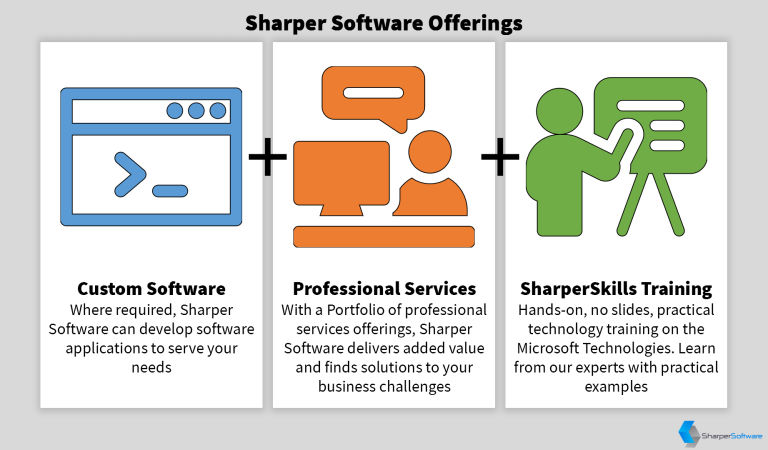 In terms of Cognitive Services, here's what Sharper Software has to offer: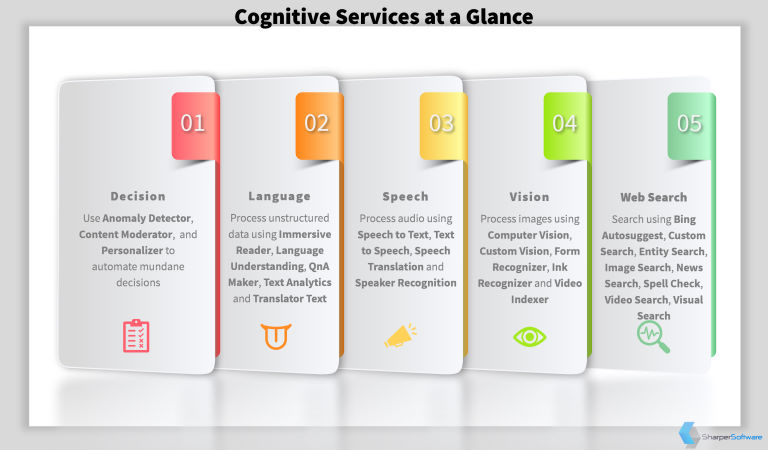 With Cognitive capabilities added to our own applications, our customer and employee satisfaction rates have reached a new peak.
Microsoft Azure Cognitive Services
Here's what Microsoft Azure Cognitive Services has to offer:
Category
Technology
Practical Use
Description

Decision

Anomaly Detector

Fraud Detection
Business Incidents
IoT Device Monitoring
Quick response systems

Find outliers and anomalies in your data early and prevent problems from disturbing your business. This works by analyzing any time-series data and automatically applying several algorithms to find the best fit model. Involve humans where applicable to review the decisions and make any necessary amendments.
Content Moderator

Detect offensive or unwanted images and/or videos
Filter inappropriate text
Adult content management

Reduce the headache of content moderation using artificial intelligence. Automatically control images and text that is marked as 'inappropriate' or that does not meet your country of operations rules and regulations, or those of not meeting your corporate values.
Personalizer
Creating Personalized Experiences for every user in your applications.
Create rich user experiences by providing automatically personalized content and experiences. Use artificial intelligence to learn from a user's usage patterns and provide best-fit content and experiences for your application without writing any line of code.

Language

Immersive Reader

Support users with disabilities
Translation on-the-fly

Add text reading and comprehension capabilities to your applications. Automatically translate text to the user's preferred language and read the text aloud, while highlighting the text being read.
Language Understanding

Forms processing
Building chatbots
Content-flow solutions

Add natural language understanding capabilities to your applications. Let your application be ready to perform tasks that would otherwise require a dictionary and list of commands in a particular language for it to work. For instance, if a user types 'Turn the lights on', or 'Turn on the lights' or 'Let there be light' or any other combination, your application should understand that the user wants to turn the lights on and process the command accordingly.
QnA Maker
Chatbot creation
Create a bot in minutes by providing a question and answers conversation. Let your bot continuously learn from your data and answer user questions in natural language.
Text Analytics

Sentiment analysis
Key phrase extraction
Language detection
Named Entity Recognition

Your application can now detect sentiment, extract and analyze key phrases and identify named entities from text entered by a user.
Translator Text

Language detection
Transliteration
Translation

Add real-time text translation to your applications.

Speech

Speech to Text
Audio to text conversion
Add audio to text conversion capabilities to your applications. Automatically, or manually train the model to improve its abilities.
Text to Speech
Text to audio conversion
Add the ability to convert text to speech to your applications and hear humans, not robots speak.
Speech Translation
Real-Time speech translation
Add the ability to translate speech on-the-fly to your applications and hear humans, not robots speak.
Speaker Recognition

Speaker identification
Biometric voice verification

Add the ability to identify the speaker to your applications. For additional security, you may use this technology to identify a person from her/his voice.

Vision

Computer Vision
Extracting information from images
Add the ability to extract information from still images to your applications. Use this information as metadata in other applications.
Custom Vision
Customized Computer Vision
In case your application needs customized computer vision capabilities use this technology to create models in minutes.
Facial Recognition
Analyze faces in images
Add the ability to identify the presence of a face in images to your applications. Add security features that identify authorized personnel.
Form Recognizer

Invoice details extraction
Financial Report details extraction

Add the ability to detect the presence of forms to your applications. Extract metadata such as invoice details, financial report details, etc. and use that data in other applications.
Ink Recognizer

Handwriting Recognition
Ink data extraction

Add the ability to recognize handwriting to your applications. Extract metadata and use that data in other applications.
Video Indexer

Finding data in videos
Identifying the start of a video segment

Add the ability to extract advanced metadata from videos to your applications. Find videos where something of interest appears. Find the minute and second where an item of interest (person or object) appears in a video. Use this metadata in other applications.

Web Search

Bing Autosuggest
Provide suggestions to users as they type
Provide intelligent suggestions to users as they type into your application.
Bing Custom Search
Intelligent search for your own data
Use this technology whenever you need to search for your own data and provide custom search results.
Bing Entity Search
Find people, organizations, places, etc.
Add the ability to search for people, places, organizations, things, etc. to your own applications.
Bing Image Search
Search for images
Add the ability to search for images to your own applications.
Bing Visual Search
Search for images visually
Add the ability to visually search for images to your own applications.
Bing Video Search
Search for videos
Add the ability to search for videos to your own applications.
Bing News Search
Search for information in World News
Add the ability to search for any information posted in Worldwide News to your own applications.
Bing Spell Check
Spell checking for your applications
Add the ability to correct spelling mistakes, recognize brand and celebrity names and identify slang to your own applications.
Bing Web Search
Search for the whole web within your application
Add the ability to search the whole web to your own applications.
Why Azure Cognitive Services?
Sharper Software offers Azure Cognitive Services as the platform of choice for the following reasons:
Real-Time Predictions: Azure Cognitive Services can make predictions very efficiently and near real-time.
Scalability: Using Azure Cognitive Services, we make sure that the solution scales according to your needs. This makes the solution cost-effective and lowers operational risks.
No set limits: Azure Cognitive Services does not impose any limits on the data that needs to be processed. This makes it possible to analyze patterns in more data and helps grow the platform as the business needs grow.
Many Cognitive Services Algorithms: Azure Cognitive Services provides a plethora of algorithms out-of-the-box. The sky is the limit when it comes to the possibilities this feature brings to your Cognitive Services needs.
Security & Privacy It is critical to keep your most important digital assets safe and secure while managing user access permissions and privileges.
Availability: we assist you in making the right choices in terms of availability of your data warehouse.
Gallery
---
Performance and
scale
Different Service Tiers to meet your levels of performance and scalability. Scale as your business grows.
Maximize

Utilization

Elastic pools allow you to allocate performance resources to a pool rather than to an individual database.
Monitoring

and alerting

Use tools and the performance ratings to quickly assess the impact of scaling up or down based on your current needs.
Phenomenal
Reliability
Industry leading 99.99% availability, powered by a global network of Microsoft-managed datacenters.
Data
Security
Advanced features to help secure your data, limit access, protect data privacy, and help you monitor activity.
Expert

Advice

Our team of highly-skilled professionals will guide your team through every step of the process.