Master Data Services & Technologies
Centrally Manage your organization's Trusted Master Data
---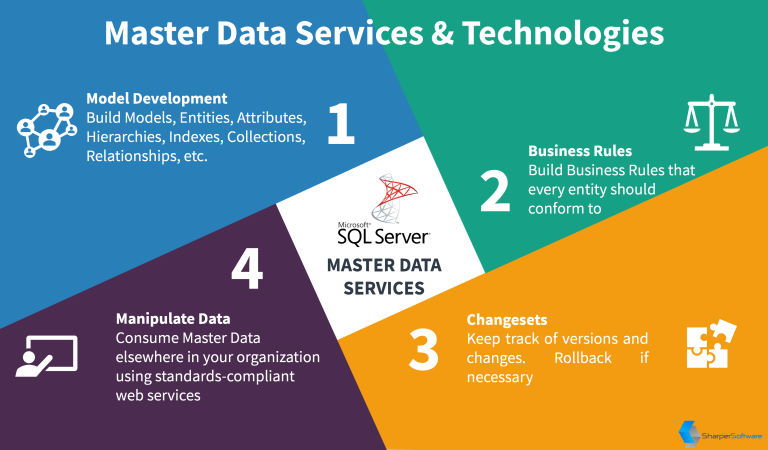 In any organization, there are key data elements that every process, procedure of operation depends on. Examples of master data are: Customers, Employees, Products, Suppliers, Vendors, etc. Modern-day operations usually work in silos and hence, such master data may be scattered around multiple databases, each of which uses its own standard way of storing and retrieving data. This implies that such organizations may not be able to easily optimize its processes, as there would be no centralized source of truth about any of the master data.
Using a Master Data service, organizations can centrally manage such important data, make it available to consume from other systems and procedures, as well as provide authorized users with the ability to edit and update such data without having to go through a lot of custom code, scripts or batch operations.
Sharper Software offerings in a nutshell:
Custom Software. Where required, Sharper Software can develop software applications to serve your needs
Professional Services. With a Portfolio of professional services offerings, Sharper Software delivers added value and finds solutions to your business challenges
SharperSkills Training. Hands-on, no slides, practical technology training on the Microsoft Technologies. Learn from our experts with practical examples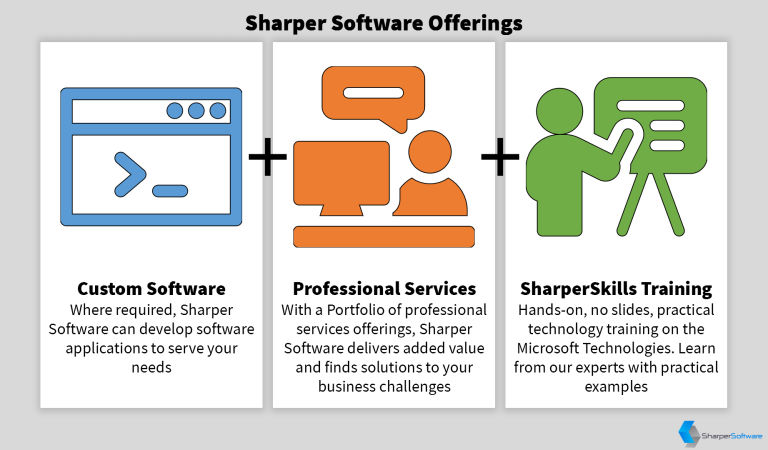 In terms of Master Data Services, here's what Sharper Software has on offer:
Master Data Implementation Process
Sharper Software can provide you with the following Master Data capabilities:
Model Development. We can assist you in developing models, entities, relationships, etc. that deliver Master Data.
Business Rules. We help you design and implement business rules that every entity should conform to.
Changesets. Keep track of each change you or any other user made. Rollback if necessary.
Manipulate Data. Connect to and use a standards-compliant web service that can delivery Master Data to any other system. You may use Excel, or any other tool.
The end result is data that is clean, accurate and conforms to your organization's or international standards.
What would you gain with Master Data Management?
Here are some of the benefits of Master Data Management:
Standardization. Your data will be consistent across all applications as it is the de-facto standard of your organization.
Redundancy Elimination. Avoid repeatedly copying your data from one system to the other or having to synchronize your data.
Reduced Time & Cost. By automating parts of your data management, your organization saves time and money.
Data Accuracy. Reduced data inconsistency and availability improves data quality and enforces structure and content.
Easy Edits. Changes made to the master data will reflect across all the relevant data destinations.
Legal Compliance. With Master Data available in your organization, it is easier to comply with local and international rules.
Multiple Platforms. Being technology-agnostic makes Master Data available to multiple platforms from a single source of truth.
Change Control. Organizations can control who has access to what data and manage versions of changed data.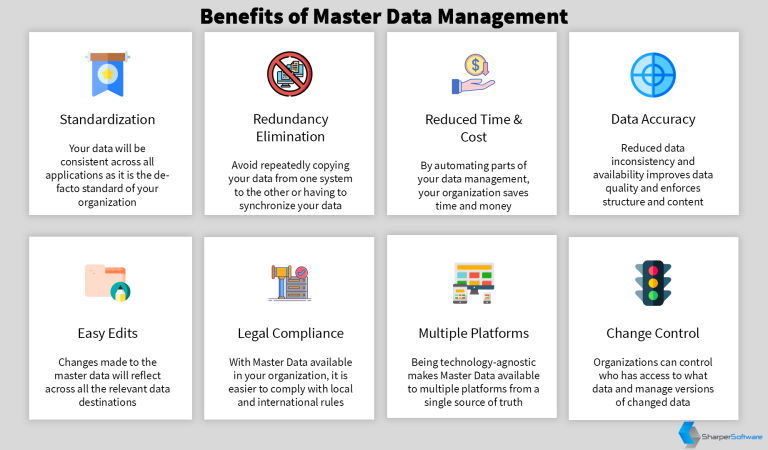 Gallery
---
Performance and
scale
Different Service Tiers to meet your levels of performance and scalability. Scale as your business grows.
Maximize

Utilization

Elastic pools allow you to allocate performance resources to a pool rather than to an individual database.
Monitoring

and alerting

Use tools and the performance ratings to quickly assess the impact of scaling up or down based on your current needs.
Phenomenal
Reliability
Industry leading 99.99% availability, powered by a global network of Microsoft-managed datacenters.
Data
Security
Advanced features to help secure your data, limit access, protect data privacy, and help you monitor activity.
Expert

Advice

Our team of highly-skilled professionals will guide your team through every step of the process.