Knowledge Mining Solutions
Harness information hidden in piles of unstructured data
---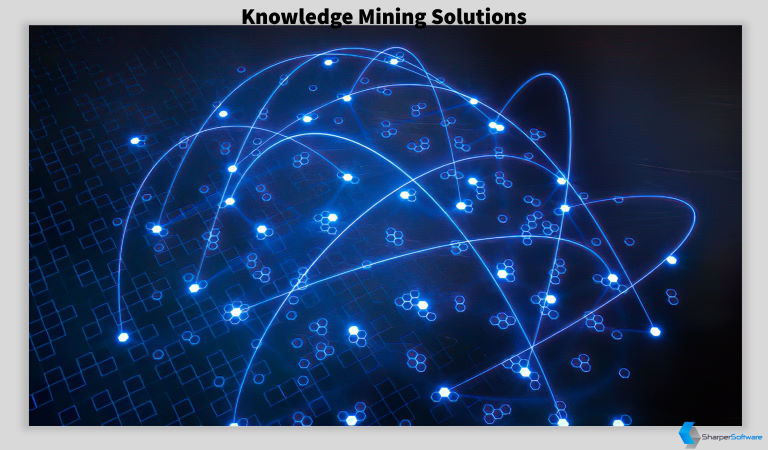 Organizations generate and consume an enormous amount of data on a daily basis. Most of the data is stored in unstructured forms. Documents (e.g. Word, Excel, PowerPoint, PDF, etc.), images (e.g. JPEG, PNG, TIFF, etc.), Audio and Video are examples of such unstructured data. Had this data been structured, finding what we were looking for would have been easy. But since the format is significantly different from one item to another, it is very difficult to answer any one of the questions below:
What article should I add to my contract given that it's about renting an apartment?
What terminology did the user use to report that incident?
In which document(s) does this term appear?
What year and under which circular did we announce Medical Insurance for all employees?
In which presentation and at which slide did we cover Risk Management?
What was the transcript of that presentation?
In which video(s) does our CEO appear?
By feeding this unstructured set of documents into Azure Cognitive Search, Sharper Software can help you answer the questions above and much more.
Practical Scenarios of Knowledge Mining
Sounds like a mountain to climb, right? Not when you learn that many other customers have already done it. Here are some examples of practical scenarios where Knowledge Mining adds a lot of value.
Digital Content Management. Create advanced search experiences for content such as articles, images, or products.
Support Knowledge Base. Allow support engineers to find a resolution to a problem by searching a knowledge base.
Process Automation. Automate processes based on adaptive business rules which capture details from unstructured data.
RFP & Contract Management. Perform risk assessment while your team is building an RFP or drafting a contract.
Sharper Software offerings in a nutshell:
Custom Software. Where required, Sharper Software can develop software applications to serve your needs
Professional Services. With a Portfolio of professional services offerings, Sharper Software delivers added value and finds solutions to your business challenges
SharperSkills Training. Hands-on, no slides, practical technology training on the Microsoft Technologies. Learn from our experts with practical examples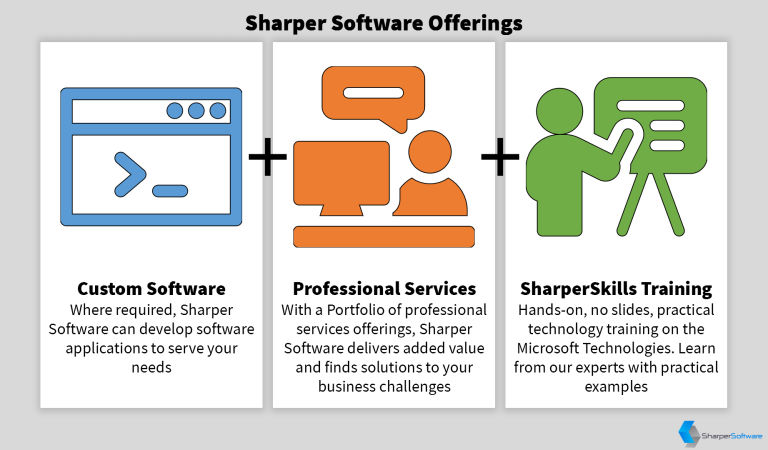 In terms of Knowledge Mining, here's what Sharper Software has to offer:
Knowledge Mining Process
Knowledge Mining keeps evolving as our World keeps changing and so does our data. It is imperative for our Knowledge Mining platform to adapt to changes in our business, and maintain its accuracy and relevance throughout its lifecycle. Here's what Sharper Software offers:
Ingestion. We help you identify, prepare and ingest your unstructured data into the Knowledge Mining platform. Wherever applicable, we also help automate mundane tasks.
Enrichment. Automatically extract valuable details like celebrities, people, organizations, industry terms, etc. and enrich your knowledge base.
Exploration. Make your unstructured data searchable. Analyze this data and visualize it using analytical tools like Power BI.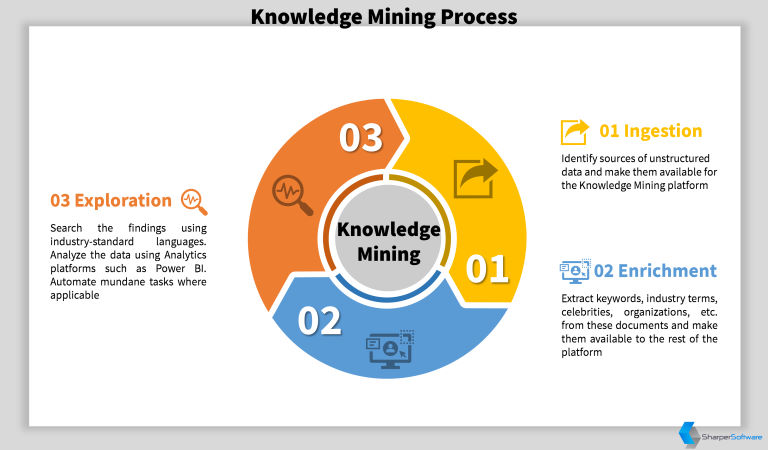 We were not able to perceive what this platform was capable of until Sharper Software showed it to us. There are hidden treasures in our unstructured data.
Why Azure Knowledge Mining?
Sharper Software offers Azure Knowledge Mining as the platform of choice for the following reasons:
Real-Time Predictions: Azure Knowledge Mining can make predictions very efficiently and near real-time.
Scalability: Using Azure Knowledge Mining, we make sure that the solution scales according to your needs. This makes the solution cost-effective and lowers operational risks.
No set limits: Azure Knowledge Mining does not impose any limits on the data that needs to be processed. This makes it possible to analyze patterns in more data and helps grow the platform as the business needs grow.
Many Knowledge Mining Algorithms: Azure Knowledge Mining provides a plethora of algorithms out-of-the-box. The sky is the limit when it comes to the possibilities this feature brings to your Knowledge Mining needs.
Security & Privacy It is critical to keep your most important digital assets safe and secure while managing user access permissions and privileges.
Availability: we assist you in making the right choices in terms of availability of your data warehouse.
Gallery
---
Performance and
scale
Different Service Tiers to meet your levels of performance and scalability. Scale as your business grows.
Maximize

Utilization

Elastic pools allow you to allocate performance resources to a pool rather than to an individual database.
Monitoring

and alerting

Use tools and the performance ratings to quickly assess the impact of scaling up or down based on your current needs.
Phenomenal
Reliability
Industry leading 99.99% availability, powered by a global network of Microsoft-managed datacenters.
Data
Security
Advanced features to help secure your data, limit access, protect data privacy, and help you monitor activity.
Expert

Advice

Our team of highly-skilled professionals will guide your team through every step of the process.