Machine Learning Services & Technologies
Be several steps ahead and find an edge over your competition using Machine Learning Solutions
---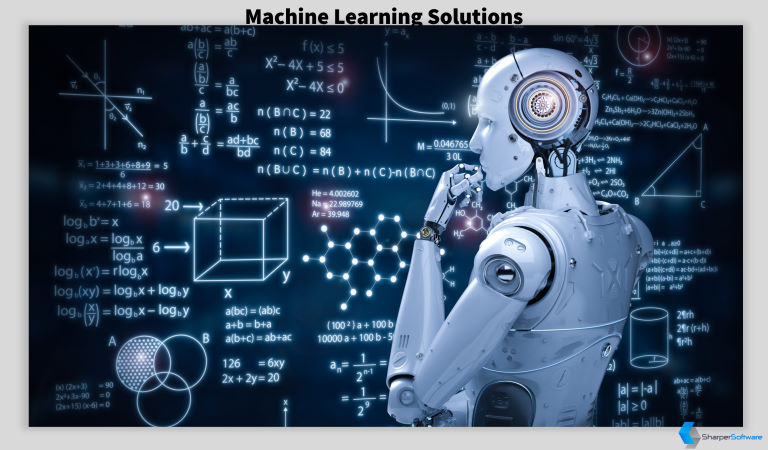 In this highly-competitive and relentlessly changing World, the more you know about your business, your customers, employees, partners, products, etc. the better. You are already capturing a lot of data about your business. Are you able to identify any hidden patterns? For instance, are you able to answer any of the following questions using any of your current resources?
For how long will this patient stay in the hospital?
What are the characteristics of my most-profitable customers?
When will my customers' orders peak again? during last time, we almost lost 25% of the orders. We don't want to repeat that!
How often were my sales leads converted to actual sales?
In order to plan for next year, what should be the impact of seasonality on my sales figured?
What are the characteristics of our most-selling products?
When will this equipment require another maintenance?
Using data representing the past, Machine Learning will help identify patterns and predict the future. This would help your organization answer the questions listed above and much more.
Practical Scenarios of Machine Learning
Sounds like a mountain to climb, right? Not when you learn that many other customers have already done it. Here are some examples of practical scenarios where Machine Learning adds a lot of value.
Churn Analysis. Understand and identify which customers would end their relationship with your organization.
Brand Fallacies. Identify which brands or products are causing more pains than gains.
Social Media Analysis. Identify positive, as well as negative posts to social media. This helps increase customer satisfaction.
Marketing Campaign Analysis. Analyze the impact of Marketing Campaigns. Help increase their efficiency.
Cross-and-Up-selling opportunities. Offer relevant suggestions to provide cross and up-selling.
Anomaly Detection. Find Spam emails and other anomalies in near real-time. This helps protect your business.
Predictive Maintenance. Predict the next maintenance cycle prior to the actual incident. This would save your organization's time and money.
Sharper Software offerings in a nutshell:
Custom Software. Where required, Sharper Software can develop software applications to serve your needs
Professional Services. With a Portfolio of professional services offerings, Sharper Software delivers added value and finds solutions to your business challenges
SharperSkills Training. Hands-on, no slides, practical technology training on the Microsoft Technologies. Learn from our experts with practical examples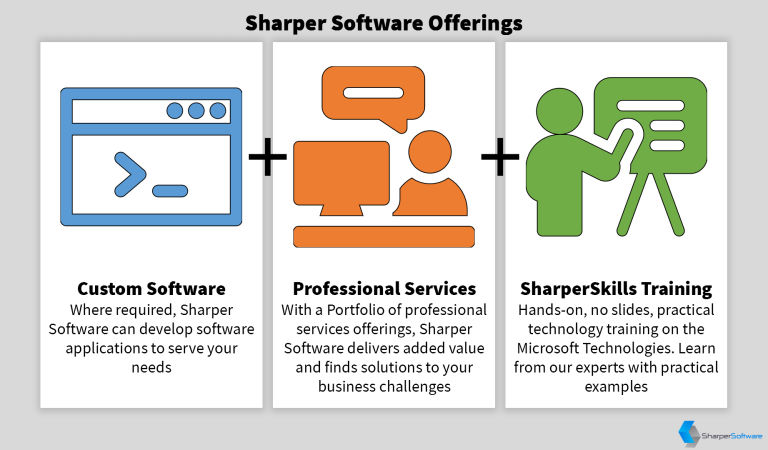 In terms of Machine Learning, here's what Sharper Software has to offer:
Machine Learning Lifecycle
Machine Learning is an ongoing process. This is true because our World keeps changing and so does our data. Our Machine Learning platform needs to adapt to changes in our business, and maintain its accuracy and relevance throughout its lifecycle. Here's what Sharper Software provides in terms of Machine Learning Lifecycle Management:
Model Training. We help you identify, prepare and train your Machine Learning Models. Wherever applicable, we also help automate mundane tasks.
Model Packaging. In order to enable deployment from staging or development environments to production, we assist you in packaging the models.
Model Validation. Models are validated against test data prior to deployment. In case of faults, re-modeling is performed.
Model Deployment. Your Machine Learning Model(s) are deployed to the selected environment(s).
Monitoring. An ongoing improvement process which makes sure the system is running, while sending improvements to the next cycle.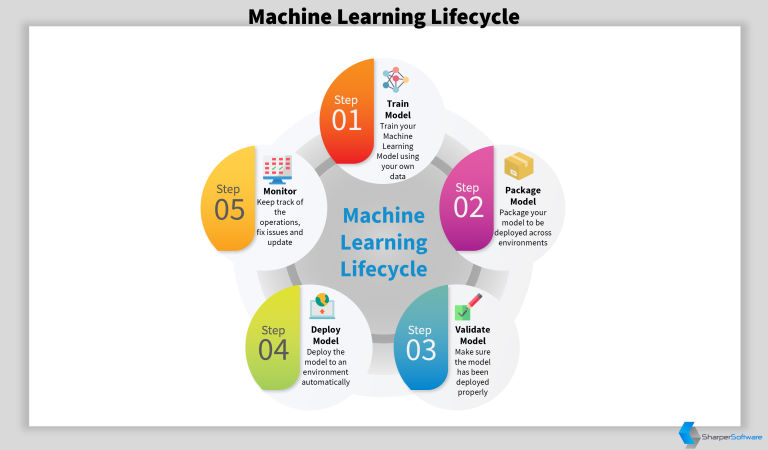 No Machine Learning project is completed 100%. New ideas, new patterns and improvements are a necessary evil. Sharper Software makes this look easy, very easy.
Why Azure Machine Learning?
Sharper Software offers Azure Machine Learning as the platform of choice for the following reasons:
Real-Time Predictions: Azure Machine Learning can make predictions very efficiently and near real-time.
Scalability: Using Azure Machine Learning, we make sure that the solution scales according to your needs. This makes the solution cost-effective and lowers operational risks.
No set limits: Azure Machine Learning does not impose any limits on the data that needs to be processed. This makes it possible to analyze patterns in more data and helps grow the platform as the business needs grow.
Many Machine Learning Algorithms: Azure Machine Learning provides a plethora of algorithms out-of-the-box. The sky is the limit when it comes to the possibilities this feature brings to your Machine Learning needs.
Security & Privacy It is critical to keep your most important digital assets safe and secure while managing user access permissions and privileges.
Availability: we assist you in making the right choices in terms of availability of your data warehouse.
Gallery
---
Performance and
scale
Different Service Tiers to meet your levels of performance and scalability. Scale as your business grows.
Maximize

Utilization

Elastic pools allow you to allocate performance resources to a pool rather than to an individual database.
Monitoring

and alerting

Use tools and the performance ratings to quickly assess the impact of scaling up or down based on your current needs.
Phenomenal
Reliability
Industry leading 99.99% availability, powered by a global network of Microsoft-managed datacenters.
Data
Security
Advanced features to help secure your data, limit access, protect data privacy, and help you monitor activity.
Expert

Advice

Our team of highly-skilled professionals will guide your team through every step of the process.